Life & Service Awards
Life Members
When an individual is nominated for and awarded Life Membership it signifies both recognition and appreciation of outstanding and dedicated service to the Nursery and Garden Industry Association. It is the highest honour that can be bestowed on an NGIA member.
Mr Stan Palmer - 1982
Despite the retirement of Mr Palmer from active association with the business, the family name will live on. Historically the Palmers input into the industry had been tremendous not only in connection with apprenticeship matters where Mr Stan Palmer had always been very involved in people and training of apprentices for higher qualifications, but also in connection with their flare for marketing, resulting in the establishment at Glen Eden of one of the most up to date and efficient garden centres in the Southern Hemisphere.
Mr Palmer's contribution would be there for the next one hundred years and would serve to set standards for the whole industry.
Mr David Goudie - 1989
David Goudie was born in New Plymouth, the son of a well-respected rhododendron grower, Arthur Goudie who, with others, was responsible for setting up the world-renowned Pukeiti Rhododendron Trust and who became the Trust's first Curator. David joined Duncan & Davies Nursery as an apprentice and soon developed a great love for propagation ... more
Mr Don Liddle - 1994
Don Liddle has almost always been a Wellingtonian, having been born in Lower Hutt in 1929. He entered the nursery business in 1946 with Thomas Waugh and Son, an outstanding nursery of its time. Don then went on to work for that very illustrious nurseryman and author Richmond Harrison and, later, JH Wall, both of whom operated in Palmerston North. In 1953 he decided it was time to make his own mark and DJ Liddle Ltd was established
Mr Mark Dean - 2000
Mark Alston Dean trained as a teacher, graduating from the University of Waikato in 1969 with the degree of Bachelor Education and with a Diploma in Teaching, the same year in which he and Esme were married. He taught full-time for 10 years, specialising during the last two in outdoor education and establishing a horticultural business; two years part-time teaching followed as the enterprise moved into shelter trees and kiwifruit plants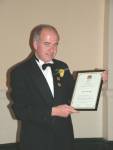 Mr Athol McCully - 2004
Athol McCully was born in South Canterbury and raised on a farm at Seadown near Temuka. Athol attended Seadown primary, and Timaru Boys High school before leaving the district to attend Lincoln College, where he gained a Batchelor of Agricultural Science. Like so many Lincoln Alumni, Athol met his wife Cheryl in 1971 while at the college studying
Mr Keith Lowe - 2004
In our centenary year we had great pleasure in presenting a Life Membership to one of New Zealand's most accomplished and successful garden retailers, Mr Keith Lowe of California Home and Garden in Wellington. Keith was born in China in 1926 and travelled to New Zealand as a teenager to join his immigrant family
Mr Peter Tayler - 2007
Peter Tayler's life membership award is recognition of sterling service on behalf of the industry that is very much appreciated and deserved. Personal contributions from people like Peter are vital for the future well being of the industry .
(image - Andrew accepts Award on behalf of father Peter Tayler )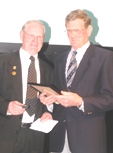 Mr Peter Pattullo - 2008
Peter was born in 1933 and when he was five the family moved to a small farm 15 miles inland from Hastings, where Peter and his younger brother were to enjoy an idyllic childhood, roaming the hills, chasing rabbits, and having adventures. Sadly the idyll was interrupted with the sudden death of their mother. After a time their father remarried and another two boys completed the family. Peter followed in his father's footsteps.
Awards for Outstanding Service
Awards for Outstanding Service are presented to members who have achieved in specific areas and gone beyond the call of duty for the benefit of the association and our industry.
Mr Terry Becher
Terry has had a long and active association with the Nursery and Garden Industry. With the passing of the years, that level of activity has remained undiminished. As a teenager, Terry wanted to become a nurseryman but an opening was not immediately available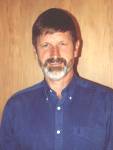 Mr Palle Olsen - 1997
Born in Denmark, Palle Arne Olsen was brought by his parents to New Zealand at the age of three. As a young man he became an apprentice at Palmers, who were then growers as well as garden centre operators. From the moment he completed his time with them, he became self-employed setting up Palle's Nursery - now Prop-ex.
Mr Bob Edwards - 1998
From a very young age Bob Edwards was interested in flowers and plants; it was logical that he should want to train as a nurseryman. He served his apprenticeship with Ralph Jordan at Australasian Nurseries, staying on for some eight years While there his interests developed beyond nursery work to landscape gardening and to advertising.

22-Aug-2011