Plant Production Biosecurity Scheme
2020 Scheme Documents
Research Stocktake
PPBS Background
A 2015 publication addressing New Zealand pest management, concluded that "New Zealand is under increasing pressure from terrestrial and aquatic pests, weeds and diseases that threaten the country's ecosystems and economy. Ongoing improvement in existing pest management methodologies and novel approaches are required." It continued: "Surveillance and pest monitoring are needed to increase the chances of early interception of invasive species or to confirm their eradication"
Plant producers are at the frontline in this battle. New Zealand's experienced pest incursions in increasing numbers over the last 50 years as international trade and travel have grown. Phytophthora cinnamomi; Pythium and Fusarium species are ubiquitous. New Zealand plant producers manage these, and other endemic pests, daily.
Offshore threats continue to grow, and in the last decade, incursions have occurred in other countries that have had devastating consequences over large areas. Significant exotic pests include Xylella fastidiosa, Ceratocystis fimbriata, Cryphonectria parasitica (Chestnut blight), Phytopthora ramorum (Sudden Oak Death) and Candidatus Liberibacter asiaticus (Citrus greening).
These and others present a critical risk to plant producers, the horticultural industry, the environment and the economy.
The Plant Production Biosecurity Scheme (PPBS) provides a framework to formalise and recognise work plant producers currently undertake to manage pests. It will help them identify, control, manage or avoid pest and biosecurity hazards in their nursery and production processes, protecting the producer, their customers, the environment and the New Zealand economy from the inadvertent introduction and dispersal of a pest.
PPBS Development
The opportunity for a comprehensive biosecurity scheme crystallised through the early stages of 2017's myrtle rust response where plant producers played a critical role in early detection and lessening the likelihood of myrtle rust being inadvertently spread with nursery stock.
Collaboration among a wide range of industry and biosecurity stakeholders (NZPPI, MPI, DOC, regional councils, Avocado NZ, Forest Owners Association, Kiwifruit Vine Health, NZ Winegrowers, NZ Apples and Pears Vegetables NZ, Summerfruit NZ, Horticulture NZ) provides project oversight and/or funding.
Development Stages
STAGE #1 - 2018 - complete
Scope & System Development - Development of the Core Standard and Checklist and Myrtle Rust Specific Module, a research stocktake and industry consultation on these through to the production of the nursery-pilot-ready scheme.
STAGE #2 - 2019 - complete
Validation, support & infrastructure
Design fitness for purpose testing through nursery pilots, develop priority modules, technical and guidance materials, tool and infrastructure development, and participation drivers.
STAGE #3 - 2020
Implementation
The project is now gearing up for wider implementation later in 2020.  Work before then includes:
Getting the next group of plant producers into the Scheme – you can register your interest with NZPPI – office@nzppi.co.nz
Understanding the risks in native plant production and making sure the Scheme manages these and potential impacts to our natural environment.
Scoping a traceability standard
Benchmarking to explore alignment with other industry biosecurity standards in kiwifruit, grape vines and avocado.
Building the PPBS website.
Developing governance, management and operations infrastructure.
Agreeing and signing up to the Plant Buyers Accord.
Stage One Complete
In 2018 an NZPPI-led team worked and consulted with plant producers, plant buyers, horticulture and forestry sectors, MPI and other stakeholders to design the Plant Production Biosecurity Scheme (PPBS).
Stage Two Complete
In 2019 the scheme and audit process was put to the test a pilot programme. Nineteen producers worked hard and provided valuable insight and feedback contributing greatly to the refinement of the PPBS making it more relevant and workable among a wide range of nursery types. It's now ready for wider adoption in 2020.  Parallel work included building guidance materials, phytophthora and kauri dieback specific modules, exploring ownership and governance options and growing plant buyer support. 
You can also keep up with the play on this webpage and send feedback on any aspect of the scheme and our work to John Liddle, john@nzppi.co.nz.
Further Background Information

Young nursery stock at Treeline Native Nursery


Rapid Ohia Death in Hawaii (photo credit Lisa Keith, USDA-ARS, DKI DKI PBARC, Hilo, Hawaii, presentation at Myrtle Rust Symposium, Auckland, August 2017)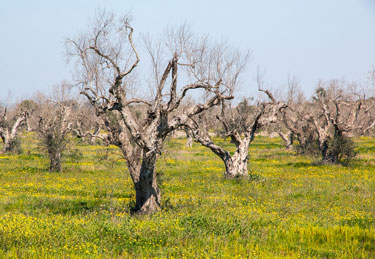 Xylella impacted olive grove Italy (photo credit Shutterstock 610891697)


Xylella impacted Vineyard in California (Xylella estimated cost to California wine industry $US104m annually)